World Suicide Prevention day 2016
World suicide prevention day was yesterday. According to the World Health Organisation around 800,000 people die by suicide each year and up to 25 times as many people make a suicide attempt. This is a tragic and saddening statistic is preventable and something that we should definitely be talking about and that prevention is definitely something we should be consistently striving towards. 
The theme of this World suicide prevention day was 'connect, communicate, care'. There is a lot more information on the IASP (International Association for Suicide Prevention) website about the importance of these three aspects of the campaign. I have paraphrased what I can below:
Connect.
whilst acknowledging that each suicide attempt is individual and extremely personal, there are common lessons that can be learnt and which are crucial to furthering the fight for suicide prevention. The bereaved and those who may be feeling suicidal will also require support, being aware of these people and being able to keep an eye on them can make all the difference. Social connectedness reduces the risk of suicide, so being there for someone who has become disconnected can be a life-saving act. Connecting them with formal and informal supports may also help to prevent suicide.
Communicate
Open communication is vital if we are to combat suicide and it is crucial that we can speak about it (and other mental health issues) openly. However, it must also be understood that this topic is a difficult one, and therefore people may find it hard to open up and speak freely – being able to show compassion and empathy are key as are being able to listen in a non-judgemental way.
Care
These two ingredients will mean nothing without care. We need to show policy-makers that suicide prevention needs to be a priority. Clinicians and service users also need to be aware of what an important role they can play in suicide prevention, as well as communities. What is important is that we are looking out for each other, supporting and caring for each other and ourselves.
In honour of this amazing campaign and the work that the IASP continue to do, here are what I deem to be important books on the subject of mental health and suicide. In my opinion, not only do they educate but they also show that there can be light and happiness again, there's always something worth fighting for – keep fighting:
Note: These books have been chosen purely on my opinion, how they affected me, what they taught me. I do not have depression, nor have I ever experienced suicidal feelings so, again, this based purely on what I know about depression on suicide and may not relate to how you are feeling.
Reasons to stay alive – Matt Haig
Aged 24, Matt Haig's world caved in. He could see no way to go on living. This is the true story of how he came through crisis, triumphed over an illness that almost destroyed him and learned to live again. A moving, funny and joyous exploration of how to live better, love better and feel more alive, Reasons to Stay Alive is more than a memoir. It is a book about making the most of your time on earth. "I wrote this book because the oldest cliches remain the truest. Time heals. The bottom of the valley never provides the clearest view. The tunnel does have light at the end of it, even if we haven't been able to see it …Words, just sometimes, really can set you free."
The Humans – Matt Haig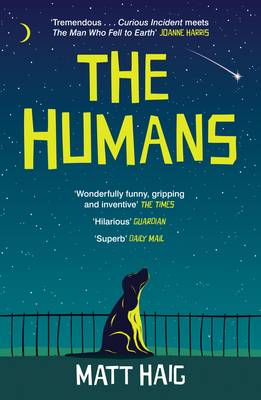 HERE'S NO PLACE LIKE HOME. OR IS THERE? After an 'incident' one wet Friday night where Professor Andrew Martin is found walking naked through the streets of Cambridge, he is not feeling quite himself. Food sickens him. Clothes confound him. Even his loving wife and teenage son are repulsive to him. He feels lost amongst a crazy alien species and hates everyone on the planet. Everyone, that is, except Newton, and he's a dog. What could possibly make someone change their mind about the human race…?
It's kind of a funny story – Ned Vizzini
Like many ambitious New York City teenagers, Craig Gilner sees entry into Manhattan's Executive Pre-Professional High School as the ticket to his future. Determined to succeed at life-which means getting into the right high school to get into the right college to get the right job-Craig studies night and day to ace the entrance exam, and does. That's when things start to get crazy.
At his new school, Craig realises that he isn't brilliant compared to the other kids; he's just average, and maybe not even that. He soon sees his once-perfect future crumbling away. The stress becomes unbearable and Craig stops eating and sleeping-until, one night, he nearly kills himself.
Craig's suicidal episode gets him checked into a mental hospital, where his new neighbours include a transsexual sex addict, a girl who has scarred her own face with scissors, and the self-elected President Armelio. There, isolated from the crushing pressures of school and friends, Craig is finally able to confront the sources of his anxiety.
Ned Vizzini, who himself spent time in a psychiatric hospital, has created a remarkably moving tale about the sometimes unexpected road to happiness. For a novel about depression, it's definitely a funny story.
Forgive me, Leonard Peacock – Mathew Quick
How would you spend your birthday if you knew it would be your last?
Eighteen-year-old Leonard Peacock knows exactly what he'll do. He'll say goodbye.
Not to his mum – who he calls Linda because it annoys her – who's moved out and left him to fend for himself. Nor to his former best friend, whose torments have driven him to consider committing the unthinkable. But to his four friends: a Humphrey-Bogart-obsessed neighbour, a teenage violin virtuoso, a pastor's daughter and a teacher.
Most of the time, Leonard believes he's weird and sad but these friends have made him think that maybe he's not. He wants to thank them and say goodbye.
So, there are the four books that I believe are fantastic in their ability to teach and communicate the struggles of depression and suicide, I know I am not alone in these opinions. Please look out for yourself and others – we can beat these terrible statistics and help those who feel so helpless to realise that they are loved, that they are important and that they are not alone.
If you, or someone you know, is struggling please talk to someone. Here are some useful numbers:
UK.
There is a lot of help available outside of the UK also, this website allows you to find hotline information for your country:  http://www.suicide.org/international-suicide-hotlines.html